Message from President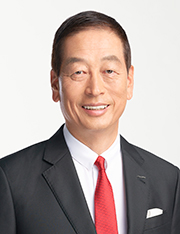 The safety and quality are top priority for cosmetics as they are used directly on the skin, hair and other parts of human body.
The Japan Cosmetic Industry Association (JCIA) is a federation of three local industry associations; Tokyo, Central part of Japan, and West part of Japan where companies licensed for marketing and production join as members. Our ceaseless efforts to ensure the safety of cosmetics are supported by compliance to various law and regulations required for cosmetics.
Cosmetics are for people who desire to be more beautiful, forever beautiful, and healthy. We, cosmetics manufacturers make constant efforts to apply state-of-the-art technologies to respond our consumers' expectation.
The cosmetics market is expanding globally. This makes it essential to be aware of social and regulatory environment in other countries, and to establish overseas networks for creditability and competitiveness of our global consumers.
We, JCIA will continue to take strong initiatives to tackle with various key tasks such as guarantee of safety, consumers' expectation to cosmetic efficacy, environmental issues, and advocating members concerns enhancing information and communication to meet diversified sales behaviour. For further development of cosmetic industry, we will keep top priority on "safety of cosmetic" and "confidence of consumers" strengthening discussion and relationship with Industry associations in the world.
July 20, 2018
Japan Cosmetic Industry Association
President Masahiko Uotani